I'm looking for a new Champ to buy, after buying Karma just a week ago. I'm looking at five different champs to buy, but I do not really know which to get first. I've played all but one before, and like all of them.
First is:
Thresh, the Chain Warden
I've played Thresh the most, and I love how he manipulates the battlefield, from dragging enemy champs into turrets, to saving allies by pulling them out of danger. However, his passive kinda makes me dislikes him, since I'll need to feed off minions and champs a lot.
Second is:
Syndra, the Dark Sovereign
What I love most about Syndra, all her abilities work together, a style I love to play.
Third is:
Zyra, Rise of the Thorns
I have not played Zyra in League, but looking at her abilities, she is similar to the TF2 Engineer, a class I loved to play all the time.
Fourth is:
Orianna, the Lady of Clockwork
I played Orianna once, and... well... she is definitely not one of my top favorites, but her manipulative nature with the orb intrigues me, so I'd like to give her a second chance.
Fifth is:
Vladmir, the Crimson Reaper
Vladmir is an unusual choice considering I love to play support roles. I played him a whole week when he was free. I love his life steal abilities and play-style.
Lastly is:
Kalista, the Spear of Vengeance
I also have not played Kalista, but working with her one match, she is really a champ based on teamwork, so I would like to get her as well.
Now if this helps you decide, I normally play:
Ahri

Karma

Sona

Zilean

Janna

Soraka

Morgana

Kayle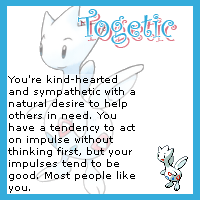 I am a Togetic! Find out what Pokémon you are at The Cave of Dragonflies