05-01-2014, 09:00 PM (This post was last modified: 03-11-2018, 04:58 PM by DannySwish.)
Hai!
So, PirateCaptain had this link to a pokémon personality quiz thingy in his signature, and I checked it out. I kinda liked it, so I thought I could make a forum game out of it, and maybe let the community get a little insight into everyone.
Just go to this link to take the 10 question quiz, and post your results if you want to play. Use the code underneath your results marked "forums" and paste it into your post.
Link:
http://www.dragonflycave.com/newpay.aspx
My results: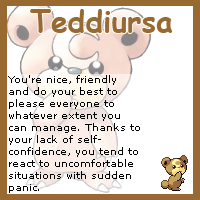 Random 2018 Update:
for the ghosts of Pigcraft Past wandering through (: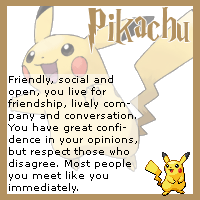 And if anyone knows of other good personality tests (most of them are pretty bad), please say so! :D
Click to vote for PC!
TB was here